Coolcom JJ ("JayJay")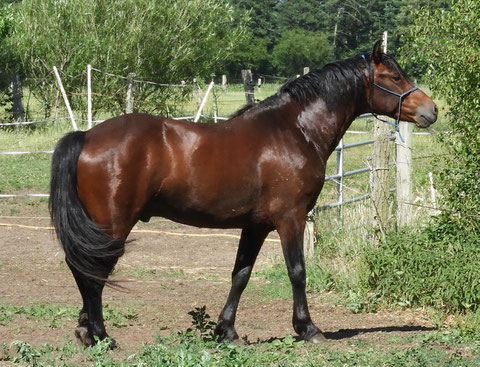 COOLCOM JJ, Hengst/Stallion
geb./Born 2014,
rotbraun/Bay,
Stm./ Height: 1,49
Brustumfang/ Chest: 192cm
Röhrbein/ Canon bone: 20cm
HWSD: N/N
Creme-Gen: Nein
Grey-Gen: Nein
Vater/Sire: CASTLESIDE JJ JUNIOR,
Mutter/Dam: KINGSTOWN STAR von/by MOY HAZY COVE
Eingetragen in Hengstbuch II des ZfdP
Züchter/Breeder: Thomas Mc Nulty, Cloonmung, Foxford, Co. Mayo, Ireland
JJ steht auch Gaststuten zur Verfügung. Deckbedingungen auf Anfrage.
"JJ" bringt alles mit, was ich mir von einem jungen Hengst erhoffe. Rahmen, Fundament, Ruhe, Gelassenheit - und die "richtige" Farbe, um mit meinen Stuten der Vater vieler schöner falb-farbener Fohlen zu werden! Der erste Fohlenjahrgang 2017 lies keine Wünsche offen (alle 3 Fohlen wurden prämiert) und auch seine Fohlen 2018 sind hervorragend gelungen.
Ich danke Tom Mc Nulty für dieses tolle Pony!
"JJ´has got everything I can ask for in a young Stallion. Conformation, strong bones, calmness - and the right Color to sire a great bunch of pretty little dun (Buckskin!) colored foals in combination with my mares. His first crop of foals in 2017 completely was awarded premium and his foals 2018 are looking fantastic also. 
My Thanks to Tom Mc Nulty for this great Pony!
Pedigree:
Castleside JJ Junior

S1-372100400001324

Castleside JJ S1047

Westside Mirrah S892

Ballydonagh Cassanova S370

Check Out Girl M5706

Errislannan Hollyhock

M9262

Cuchulainn S789

Doon Holly M6654

Miss Reilly of Castleside M13337                          

Castleside Tigue S1062

Gorteen Boy S825        

Park Pogeen M7204

Scariff Lass M10385      

Glencarrig Finn S843

Juno M8557

Kingstown Star

M1-372100400019737

Moy Hazy Cove  S888

Hazy Dawn  S849

Dale Haze  S794

Castle Park  M7838

Windy Cove M2870

Toreen Ross S99

Windy Dun M1803

Kingstown Starlet M13135  

Monaghanstown Fionn S1003

Abbeyleix Fionn S810

April Star M7894

Kingstown Silver M9033

Cuchulainn S789

Silver Fort M7281
Mehr/Full Pedigree: http://www.allbreedpedigree.com/coolcom+jj
Neue  Bilder - New Pictures
Februar 2018 - February 2018
März 2017 - March 2017
JJ und die Jungs - JJ and the boys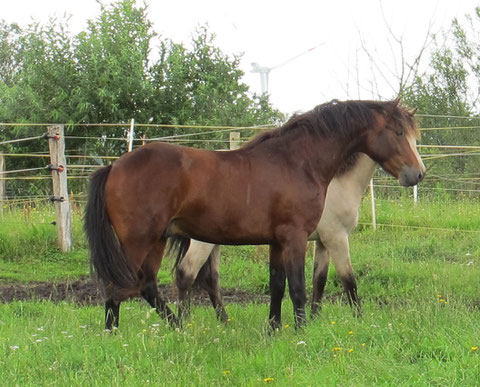 JJ ("JayJay") 2 Jahre alt - 2 Years old
Der Anfang - The Start
 Video oben: JJ`s erste Schritte auf Schleswig-Holsteinischen Boden.
Gerade nach 4 langen Tagen Reise aus Irland angekommen, sind die ersten Schritte etwas wakelig. Trotz all dem Stress ist er ruhig, neugierig und freundlich. Nur 6 Monate später (Video unten) hat er sich eingelebt und spielt mit seinen Freunden.
Video above: JJ´s first steps on Schleswig-Holstein´s ground.
Having just arrived after 4 Long days of Transport his first steps are a Little shaky. Despite of all the stress he´s courius, calm and friendly. Only 6 months later he´s settled here nicely (Video below) and playing with his new friends.
Gerade angekommen - Just arrived
6 Monate später - 6 Months later